#KeepMoving: Brendan Synott and Luis Benitez Don't Compromise Their Active Lives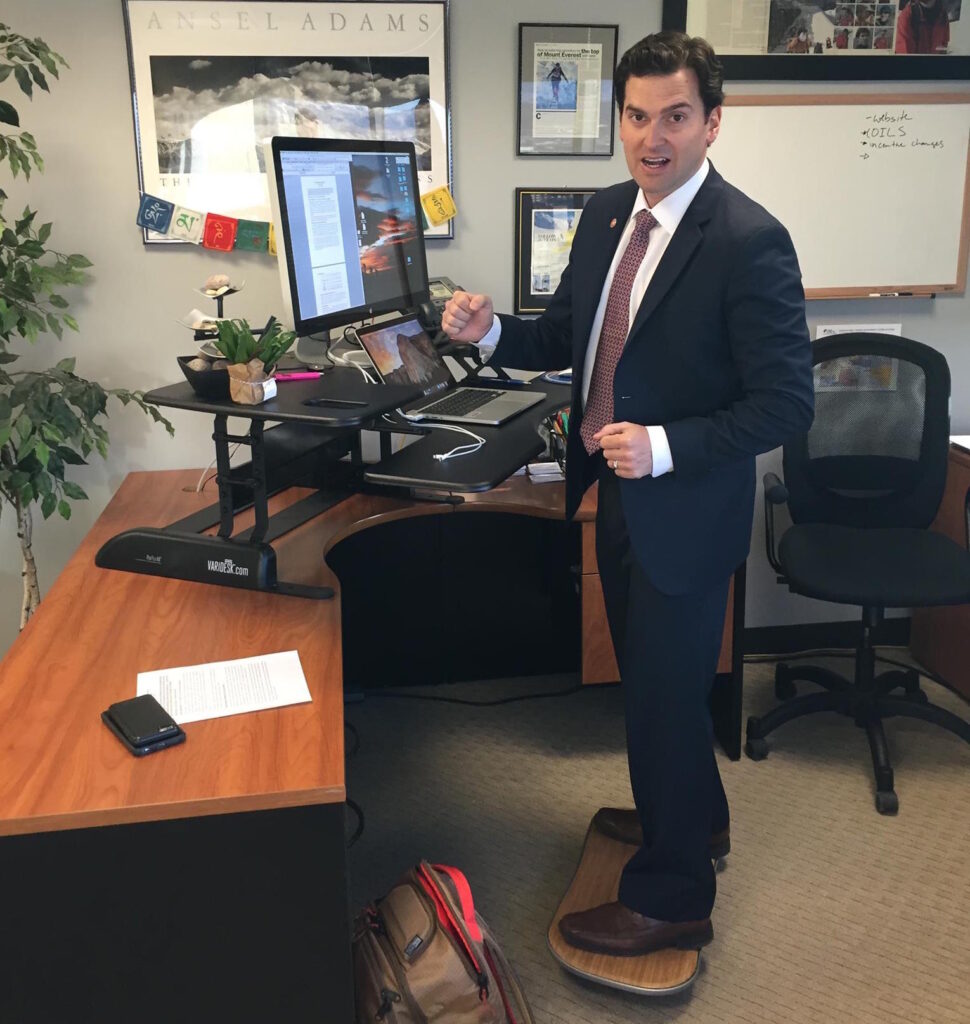 ---
Serial entrepreneur Brendan Synnott and world-renowned mountaineer turned Director of Colorado's Office of Outdoor Recreation Industry Luis Benitez are FluidStance® fans who've purchased countless decks for themselves, their staff, and their families. Always looking for a better way to make their active lives better and integrate motion into the workplace, these two put their FluidStance decks to work—literally!
The Relentless Entrepreneur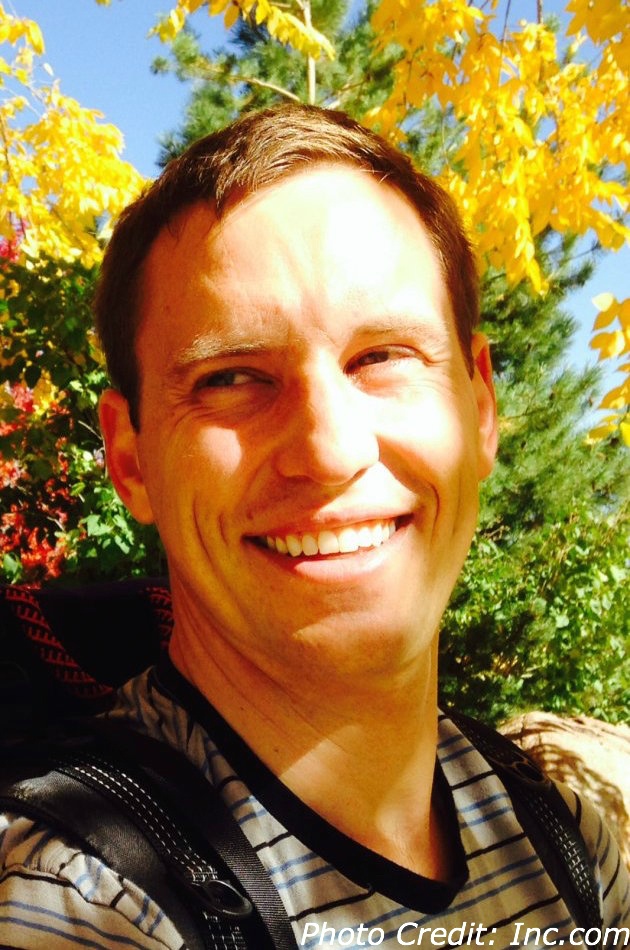 Synnott, co-founder of Bear Naked and CEO of organic cotton clothing line PACT, along with several other mission-driven enterprises, started building companies at age 23. In five years, he took Bear Naked from zero to a $50 million business. As you can imagine, he spent a lot of time hustling. "We were young, we had a lot of energy, and we started at the farmers markets and then spent hours at grocery stores, giving out samples."
His determination paid off and Synnott found himself loving the health food market. Back in the early 2000s, "Food Network was taking off at the time," he says. "People were passionate about food, and there was so much scope to make everyday foods healthier."
He sold Bear Naked for $80 million in 2007 to Kellogg's, and went on to run a few more companies: healthy meals startup, Evol, and organic cotton basics brand, PACT. Today, he helps other mission-driven startups through Revelry Brands, which invests in companies looking to scale.
After 15 years of creating companies for Millennials, Synnott is keen on creating workplaces that reflect his approach to life and business—fun, compassionate, and mindful of a healthy lifestyle. That means getting out of the chair, cubicle, and meeting room mindset and adopting a workplace that reflects his Colorado roots. Synnott tested out FluidStance and was sold the first day he took it out of the box, he says.
"I've always believed in standing to work, so it makes sense. My entire office at PACT has standing desks. We got them for the whole office. It makes staring at a computer more tolerable," he jokes. At 38 now, he's not running around farmers markets selling granola anymore. Instead, the Boulder entrepreneur is busy overseeing businesses. Long hours at a desk, on the phone, and in meetings can be draining. "75 percent of the time I stand on my FluidStance deck. I notice that when I don't use it I get into lazy positions standing," he says. "I'm more in tune with my core and my neck hurts less as well."
The Outdoor Adventurer Turned Government Official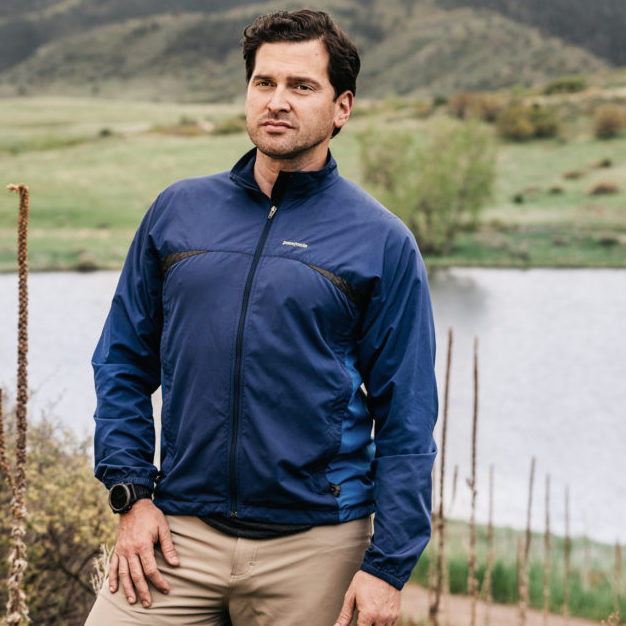 Benitez is a fellow outdoor and healthy lifestyle enthusiast. That's really quite an understatement. He's summitted the top of the famed "Seven Summits" more than 30 times in his career; six of those were on Mt. Everest. He's also tackled one of the most dangerous climbs in the Himalayas, K2.
He clearly is not interested in sitting at a desk all day, yet found himself there when he was appointed the Director of Colorado's Office of Outdoor Recreation Industry. So he took on the FluidStance challenge, adopting our Level® board for his work hours in Colorado. It was an easy transition.
"Like a duck to water," he says. "Super easy to use, balance on, and lean to one side for a brief rest. I thought it would be more difficult but it's just subtle enough that it's perfect for all day."
Benitez now stands on his FluidStance Level for 4 to 5 hours a day. "I definitely notice the difference at the end of the day. More energy for sure." He also has his staff and friends on board—literally. "The only time I'm off of it is for meetings and if I need to drop my standing desk to spread out papers."
It's not hard to imagine that Benitez prefers to be on his toes; he's been challenging convention much of his life. Growing up, he says, he was often ill, suffering from asthma. To improve the health of his lungs, he began hiking in the mountains. As a young boy, his family often visited South America; here Benitez challenged his body, pushing his lungs to grow stronger in the high altitude mountains. It worked. At just 14, he was ready to climb Cotopaxi in Ecuador, which tops out at 19,347 feet. After that he was addicted, climbing mountains across continents and arranging expeditions for others to join him.
Today, Benitez runs Colorado's Outdoor Recreation Industry Office and oversees one of the biggest trade shows in the industry, Outdoor Retailer. He's keen on using this platform to support brands that infuse an active lifestyle with deeper ethos about sustainability.
"Joel [founder of FluidStance] hands down is one of the most inspirational people I know," he says. "I lament not having him here in Colorado. He truly is a builder at his core, trying to do the right thing for the people and planet around him."
While Benitez and Synnott may be active souls, a broader study by the Mayo Clinic on FluidStance's flagship product, the Level, validated a 19% gain in energy expenditure (burning more calories!) while using a FluidStance deck vs. just sitting. The cherry on top? People enjoy the experience too—83% of users reported that they actually had fun using the board.
And it's always nice to add some fun back into the workplace, right?
What keeps you moving at work? Comment below or email us at [email protected].
---