Paperless Office Ideas: Actionable Tips and Strategies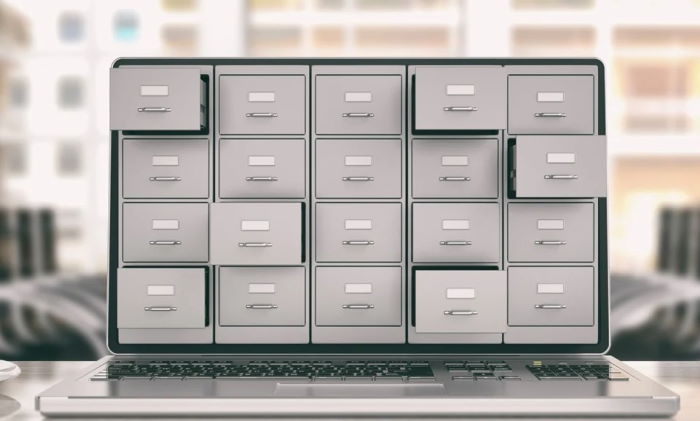 Whether you are looking to reduce your environmental footprint or want to reduce clutter at your desk, going paperless in the office is the best solution. For a long time, paper has dominated the workplace, and it has resulted in a significant negative impact on the environment. Finally, technology and innovation have caught up to make it possible to go paperless. These are paperless office ideas to adopt as you move toward the workplace of the future.
Actionable Tips and Paperless Office Ideas
Eradicating paper in the office is not an impossible task. You can start with small and actionable steps until you change the culture in the office. Below are some ideas that you can start with.
Implement a Paperless Culture
If you are serious about going paperless in the office, you have to take a stand. The best way to do this is to create a set of policies and enforce them. Implementing a paperless culture at work should also come with a specific timeframe.
Taking this approach will create a sense of urgency that will make everyone more accountable when making decisions that count toward becoming paperless.
Support Paperless Infrastructure
The right infrastructure can aid in your transformation to a paperless office. It is important to invest in these tools and infrastructure to minimize reliance on paper.
A dual monitor setup is one of the essential infrastructures needed for a paperless office. Most employees print out documents to cross-reference them with the digital report or document. You can reduce the need to print out documents by placing both types of documents side-by-side using a dual monitor. It saves time and eliminates the need for paper printing. A dual monitor setup can be expensive, but it is a one-time investment that will pay off in the long run.
Think Digital
Several software tools are designed to increase efficiency and productivity in the workplace. Switch to these digital tools when performing your tasks or collaborating among your peers. Taking a digital approach to document management, file sharing, and collaboration with your peers are just a few examples.
Promote Recycling
Recycling is one of the best steps you can take toward promoting a culture of sustainability and building a waste-free workplace. Since you have no control about the amount of paper used by other companies you deal with, you can make an effort to reduce paper waste by recycling any paper that you use. For example, the monthly utility bills that you receive must be reused to avoid them going straight into the trash bin.
Essentials for a Paperless Office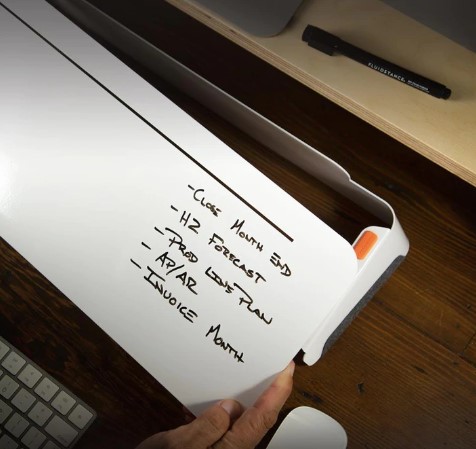 Equip your office with the essential items and accessories that will enable you to stay productive while reducing your carbon footprint.
Dry-Erase Writing Boards
Writing down notes and to-do lists are helpful for staying on top of your daily tasks. But if you were to write down all the notes for every project you're working on, the amount of paper and trash in your office would quickly pile up.
A dry-erase writing board like Slope is an eco-friendly way to write down notes on your desk. The dry-erase surface has enough space to jot down your thoughts and ideas. When you are done with your notes, you can erase them and make room for new ideas. There is no need to throw away paper after every use. And there is no need to worry about accidentally losing the papers filled with your ideas.
Using a dry-erase writing board can declutter your work desk, encourage more productivity, and protect the environment.
Magnetic Boards
Magnetic boards are similar to writing boards in that they come with a dry-erase writing surface. They are the perfect accessory to use if you want a clutter-free desk. The magnetic boards are great for organizing your ideas or making outlines for your new project. You can use as few or as many boards as you want.
Like the dry-erase writing boards, you can reuse them. They eliminate the need for sticky note, flash cards, etc. These Flow Cards magnetic boards are a modern office essential.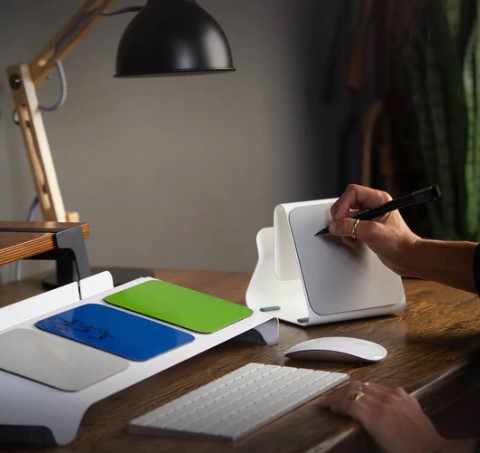 Document-Scanning App
Before you shove your documents into the cabinet for filing, use a document-scanning app instead. This will enable you to store the document digitally and access it on your computer or phone. When you have a digital copy of these documents, you can easily forward it to your colleagues via email or fax. It is hassle-free and reduces your eco-footprint.
Cloud Storage
A cloud storage tool is another must-have in a paperless office. Gone are the days when you have to print out documents and other important files that will take up space in your cabinets and drawers. Eventually, you will either forget about these printed documents or waste precious time looking for them.
You have plenty of cloud storage tools and services to choose from that can be synced with other platforms and programs you are using. Google Drive is one of the best tools out there. There is a free option and paid ones that will give you more cloud storage space. Choose according to how much storage you need and your budget.
Calendar App
A desk calendar is a staple in the office. However, imagine how many trees need to be cut down every year to print out calendars that will eventually be replaced? Unfortunately, desk calendars are also one of the biggest sources of paper waste in the office.
Switching to a calendar app is an eco-friendly move that will eliminate the need to waste more paper to make calendars. You can also get more functionality out of a calendar app than a traditional desk calendar can give you. For example, you can sync your calendar app with your email and task management apps. You can set it up for reminders when you have a meeting, appointment, or project deadlines. This app makes you work smarter and more efficiently.
Conclusion
Successfully going paperless is not an overnight endeavor. It should be a series of small yet consistent efforts to establish a paperless culture in the office. Hopefully, these paperless office ideas should give you enough to start your transition to eliminating paper in the workplace.