Home Office Renovation: The Reardenstein Collective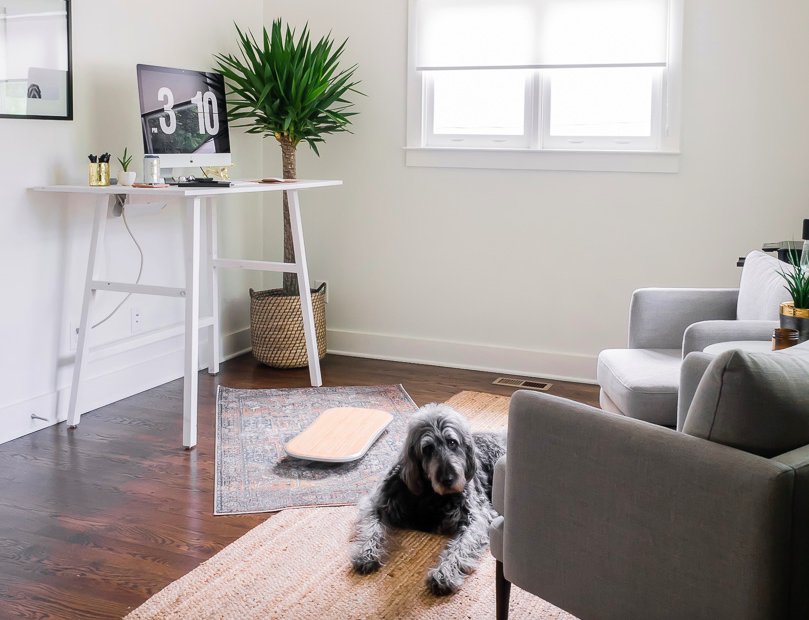 ---
The Reardenstein Collective is made up of an entrepreneurial husband and wife team based in Nashville, Tennessee, working with clients on their business, brand, and creative needs. They recently went through a home office renovation, an undertaking we find inspiring because it's important to be aware enough to step back and hit the reset button now and again. Even more inspiring was their desire to eliminate a dependence on sitting all day and increase their standing and moving.When we moved into our house, we set up the office with a long table, two stiff chairs, some fun art work, and giant, painted letters that spelled out "LIKE A BOSS." It was meaningful and colorful and felt right at the time. But four years later, the space was no longer conducive to our creative process. We were suddenly uninspired and a little overwhelmed. And incredibly uncomfortable.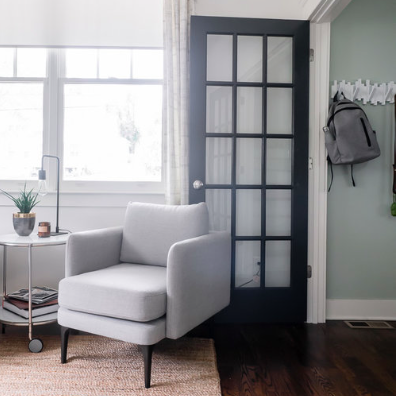 We started planning this renovation when we realized how much time we were spending working from home, but not actually in our home office. If you work from home, you know how important it is not to call the couch or your dining table a "home office." So when we began brainstorming office renovations, we focused on two major things: our style and creative function.
Our style is pretty neutral. We like the dichotomy of warmth and cool lines, minimalism and comfort, worn and new. As far as creative function, we realized we need a space that's comfortable, provides clearheadedness, and gives us the ability to collaborate freely, whether it's with each other or our clients.
Finding a new desk was the most challenging piece of the puzzle. Justin has been dealing with hip issues for years and prolonged sitting exacerbates it. We looked into an adjustable sit/stand desk but couldn't find one that we liked, as most were either pretty unappealing visually or way out of our price range. Then we talked to our pal Ron and he said he was getting into woodworking and would love the opportunity to work on something like this. We ultimately had Ron build a permanent stand desk and we chose to use accent chairs when our feet got tired. The desk turned out so beautifully, and it's actually at a height that strangely enough works well for both of us. Ron's attention to detail and precision instantly won us over.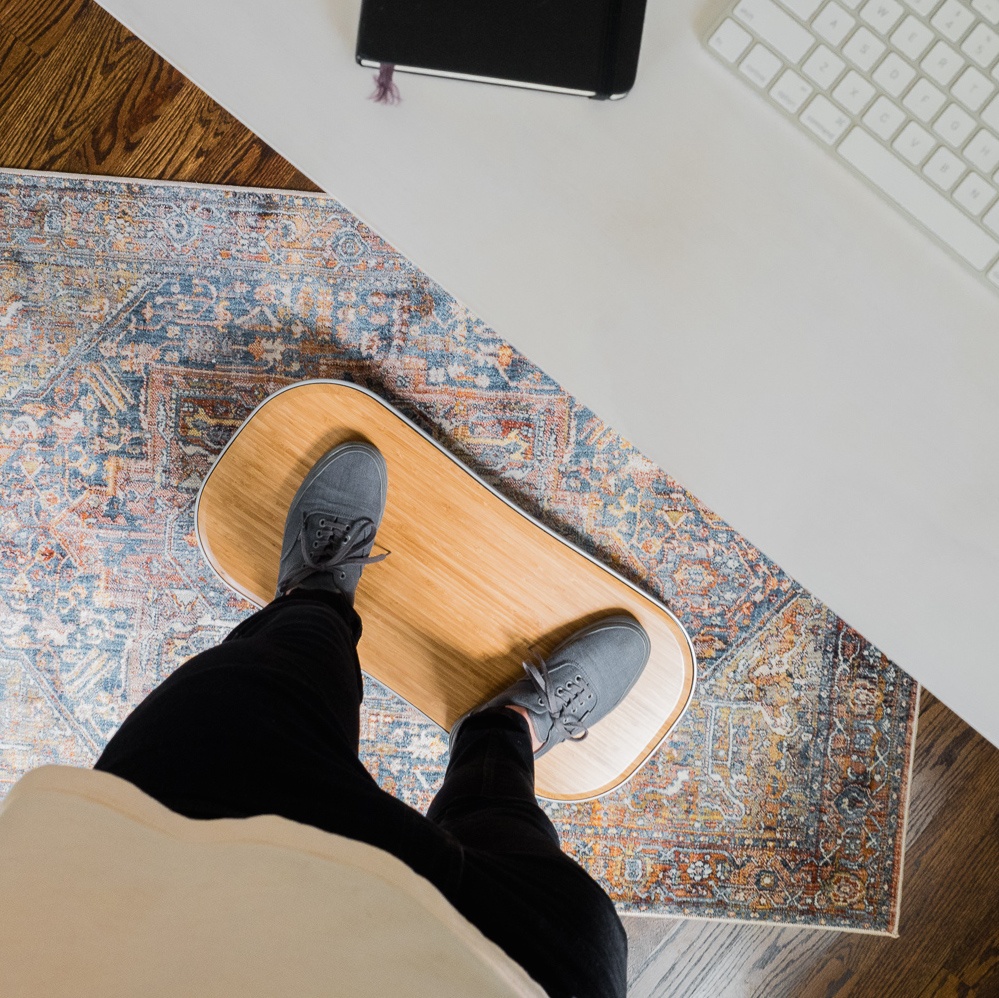 Our favorite accessories? The Fluidstance balance board, which keeps our legs active while standing and keeps our legs from getting stiff or buckling, and the photo of Bo that we had printed. Despite him usually being at our feet, we thought it best that he's always able to check in with us.
In an effort to make the room more bright and airy, we picked out some fun greenery (with easy upkeep!) and lightened up the wall color.
We've been working in our newly renovated home office for a couple of months now and are already feeling more productive. We're pretty sure Bo feels the same way!
Sources:
Custom Stand Desk: Ron Harness
Gray Twill Armchairs: West Elm
Mini Sputnik Chandelier: Southern Lights Electric
Rugs: Edessa Tribal Medallion and Maui Jute Braided
Balance Board: Fluidstance
Wall Paint: Alabaster
Door Paint: Iron Ore
Side Table: Ikea (currently unavailable)
Arc Lamp: CB2
Candles: PF Candle Co
Yucca Plant: Flora Plant Shop World Market
Storage Drawers: Ikea
Roller Shades: Smith & Noble
Mid-Century Wooden Rod: West Elm
Curtains: West Elm (currently unavailable)
For more information about Justin, Lyndi, and The Reardenstein Collective, visit them on:
Web: TheReardensteinCollective
Facebook: @thereardensteincollective
Instagram: @thereardensteincollective

Interested in writing a guest post for the FluidStance blog? Have suggestions for topics? Email us at [email protected]