FluidStance on the Road: BlogHer Health 2019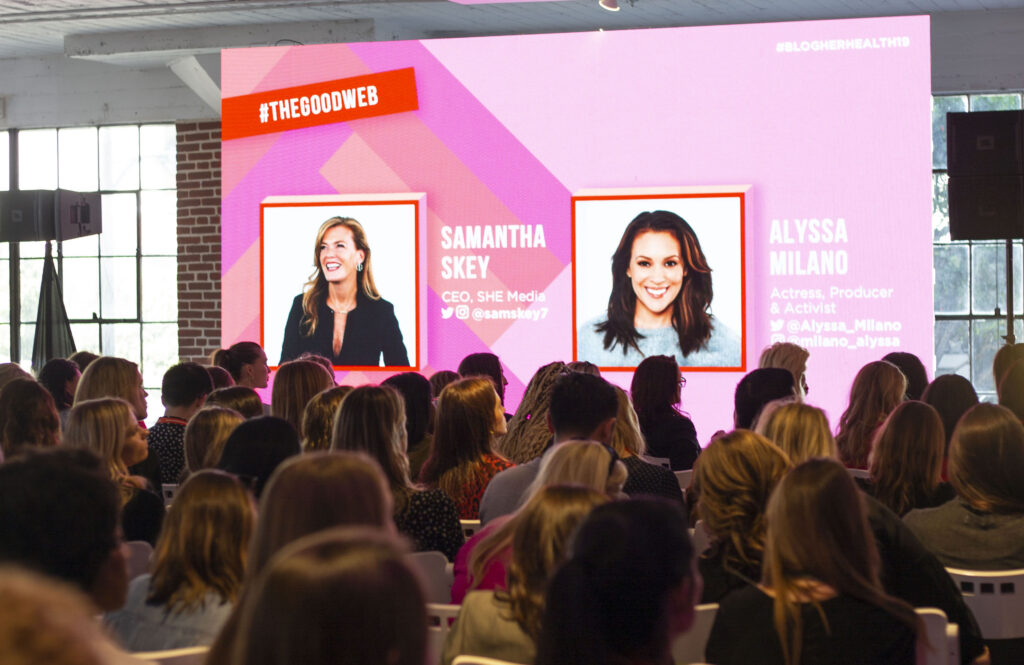 And that's a wrap on BlogHer Health 2019! It was a jampacked two days filled with educational sessions, interactive experiences, and inspirational keynotes from the leading wellness experts on women's health. Nearly 1,000 content creators gathered in LA to learn about the latest and greatest trends in health and wellness. The community of women, from celebrities to activists, social media stars to entrepreneurs, were joined by the likes of Alyssa Milano, Jameela Jamil, Jaime King, Karena Dawn, Emily Schuman, Massy Aria, and Katrina Scott. All of them shared inspiring stories and wellness tips to keep us motivated all year long.
We were intrigued by keynotes from influencers and entrepreneurs at BlogHer Health, who chased their dreams and ultimately turned their passion projects into thriving businesses and social justice missions. We've highlighted a few women who have gone the extra mile to inspire their communities.
Amongst the many success stories was Samantha Skey, the first female CEO of SHE Media, a media company with the mission of empowering women by providing lifestyle content to a community of entrepreneurs and content creators. In addition to the company's flagship site, SheKnows.com, which caters to moms, SHE Media operates STYLECASTER for millennial fashion and beauty enthusiasts, and HelloFlo, as well as the BlogHer conference itself, the longest-running conference series (15 years and going) for women content creators and entrepreneurs in the U.S. In 2014, Samantha created the #Femvertising Awards to celebrate brands whose advertising defies gender stereotypes and empowers women and girls. A year later, Samantha launched Hatch, a national digital literacy program focused on producing social impact video content for "Generation Z," along with #ThePitch, the company's program supporting female entrepreneurs.
We had the pleasure of meeting Jordyn Wieber, an Olympic gold medalist and activist. Jordyn wowed everyone when she beat the reigning world All-Around champion in 2011, instantly making her the best gymnast in the world. A key member of the "Fierce Five," Jordyn helped the US capture a gold medal at the 2012 London Olympic Games. In 2018, Jordyn came forward as a survivor of Dr. Larry Nasser's sexual abuse and continues to be a vocal fighter to make gymnastics a safe sport for young girls, working with the likes of the US Senate as well as other organizations in her quest. She, along with 140 other survivors, was honored at the 2018 ESPYs with the Arthur Ashe Courage Award. Currently, she coaches the women's gymnast team at UCLA, where she graduated in 2017. She continues to set the precedent for women in sports, health, and wellness.
Amy Ziering was one of ten women to be honored for her work, activism, and voice. Amy is two-time Emmy Award winning documentary filmmaker. Her most recent film, The Bleeding Edge, is a critically acclaimed Netflix Original. Her 2014 documentary, The Invisible War, was nominated for an Academy Award, and spurred then-Secretary of Defense Leon Panetta to announce significant policy changes, catalyzing the passage of 25 pieces of reform legislation. Before becoming an award-winning film maker, Ziering was working on her Ph.D in comparative literature. She has enlightened many audiences through her political and social justice missions, and is currently at work on a documentary highlighting equity and parity in the entertainment industry.
Leaving the BlogHer Health, we were inspired by the examples these women, along with the other speakers, have set when it comes to a focus on women's health and wellness and empowering female voices for that topic. And we're thankful to have had the opportunity to learn from them. Onwards and upwards!
Interested in writing a guest post for the FluidStance blog? Have suggestions for topics? Email us at [email protected]