Joel Heath Talks Entrepreneurship on "From Founder to CEO"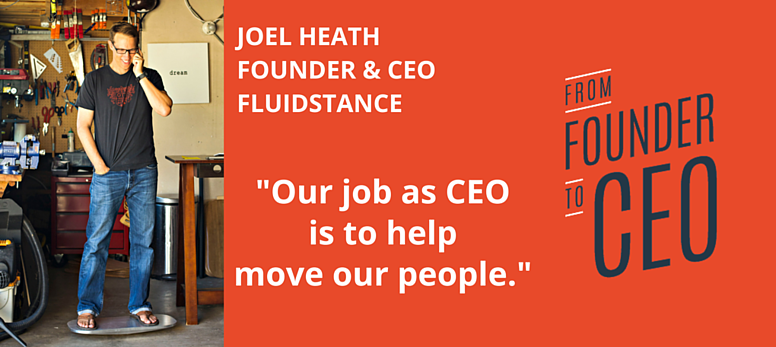 ---
Our founder Joel was featured in last week's episode of the podcast "From Founder to CEO," in which host Todd Uterstaedt interviews executives about their experiences taking their entrepreneurial skill sets into leadership positions. The dialogue focused on Joel's personal and corporate purposes, his views on turning potential weaknesses into strengths, and his advice to other entrepreneurs.
Like any entrepreneur, Joel has a strong vision for what the world needs: in this case, he believes that what the world needs is to be set in motion. Joel and Todd discussed the inception of FluidStance® and the Level®, with Joel citing a realization about his sons' natural inclination for movement as a major lesson in motion. This became an instrumental motivator in Joel's personal quest to move the world when Joel noticed that, like with so many other kids, his son's need for movement was repressed once he started school and went from playing for the majority of the day to being expected to sit still in a desk. This appreciation for play comes through the Level's mindful design as a beautiful piece of professional furniture rather than a solely utilitarian piece of equipment.
Joel also cited some "growth hacks" that could help budding entrepreneurs. One of these is the 70:20:10 innovation portfolio plan that he tries to bring into all aspects of his life. Originally discussed in the Harvard Business Review, this plan essentially focuses on striking a balance between discipline and dreaming when running a company. Joel credits this balance as especially important for him as a person with dyslexia; although having dyslexia can make it challenging to maintain focus, Joel points out that it has given him the vital ability to see the world differently.
In the podcast, you'll also get to hear about Joel's favorite growth hack, Headspace, his daily habit (could you have guessed that it's "movement"?), and the importance of going with your gut. Listen to this episode of "From Founder to CEO" here, and be sure to tune in for more of Todd's insight into the lives of successful entrepreneurs!