Hit Reset with Easy Office Yoga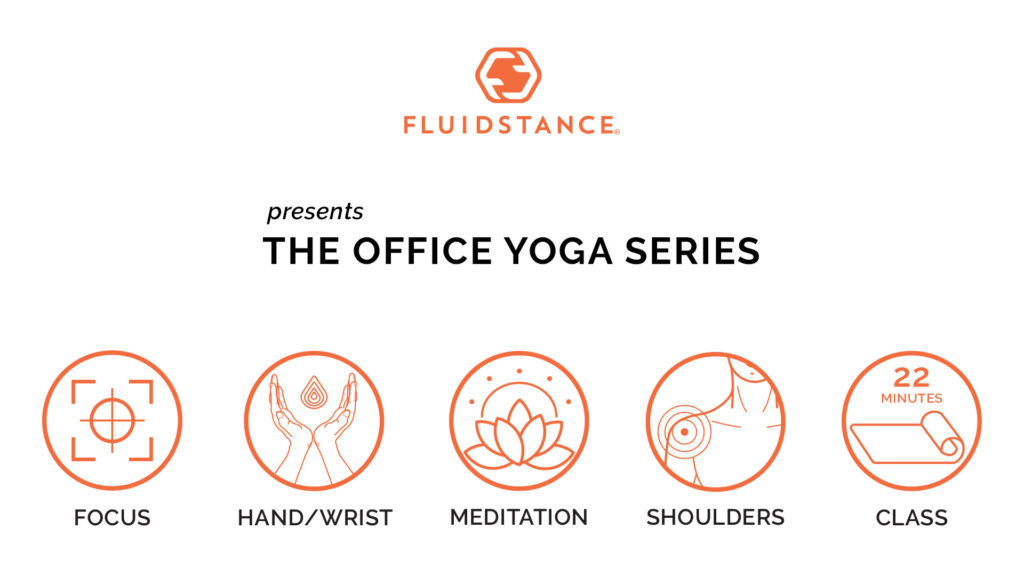 With a new year comes new intentions. And hey, it's only February so still plenty of year to go. Introducing the sequel to our popular Office Yoga Series. Kelly Heath, senior certified yoga instructor, guides us through a series of easy office yoga movements that get us out of our seats and allows us to focus on relieving stress in both the mind and body. Whether you work from home or in a more formal out-of-home office space, taking a few minutes to reset yourself will be well worth the added mental, emotional, and physical boost you'll get to help you productively sail through your day.
1. Focus
During a frantic workday, it can be difficult to focus on the task at hand. In this Focus video, Kelly Heath guides us on a short meditation to regain concentration and focus. Amongst the many deadlines, to-dos, and hectic schedules this will help you take a moment to re-center yourself. Feeling refreshed, you'll return to your task with a clearer and calmer mind
Tension can build up in our wrists from texting, typing, writing, and working on the computer. In this video, we focus on relieving tension by stretching out our hands and wrists. By giving attention to our pain points, we alleviate discomfort and liven the blood flow through our body.
It's easy for our energy to be scattered, leaving us feeling stressed and anxious. In our Meditation video, Kelly helps us turn all of our attention to our breathing. By pausing for a few moments, we allow our body to regain focus. Learning to slow down can help mitigate our stress, reduce blood pressure, and introduce calm.
In a work environment, we tend to let pressure and stress pool in our back, neck, and shoulders. Taking just a few minutes to provide space and breath to these areas of our body will make a huge difference in the rest of our day. The exercises in this video focused on our Shoulders include a few simple neck and shoulder rolls.
If you're looking for an extra boost, this 22-minute hands-free yoga sequence will help you sneak in even more movement into your workday. Perfect for a lunchtime or mid-afternoon break, when taking a bit more time to reset will help you sail through the rest of your day.
How about you…what keeps you moving? Comment below or email us at [email protected].