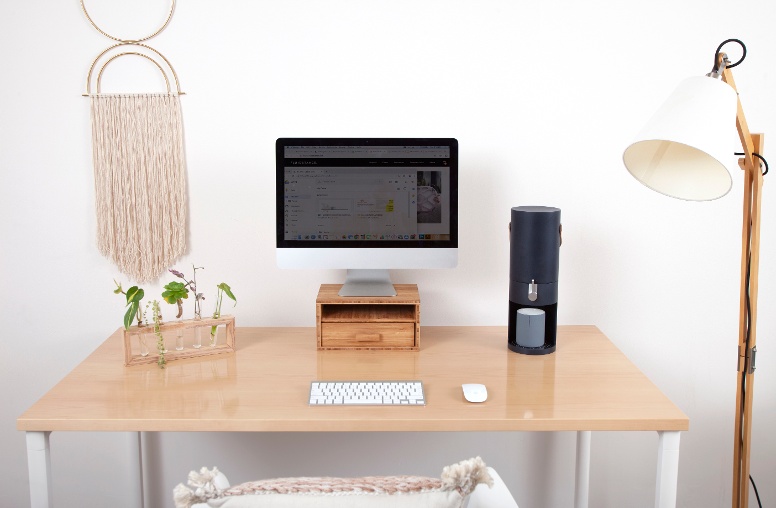 No matter the environment you work in, you can tell a lot about your coworkers based on the items they display around the workspace. A desk offers endless possibilities for personalization – and considering how much time we spend at work each week, why not let our desks turn into places of joy? Whether you're remedying a mess of post-it notes, simply refining the look of your desk area, or injecting some personality, now's your chance to hone in on the desk style that speaks to you.
The Environmentalist
You're environmentally conscious and you show it, especially with the items that you choose to keep on your desk. You're known to often use your bamboo utensils, reusable metal straw, and soon enough, your Fillup™ water tower. Also featured are your eco-friendly soy candle and a plant to keep things fresh, plus a surfboard for those mornings when you want to get even closer to nature. 
The Designer
Your creativity is clear to all those around you. It's rare that your desk is seen without an array of artsy supplies, including a jar of colored pencils, fine-point Sharpies, and a sketchpad for whenever inspiration strikes. You rely on your digital design tools every day, so the bigger your computer monitor – and the more ergonomically positioned – the better. You stay hydrated in style with a chrome >ful bottle that fits in right with your desk style and introduce a bright pop of color with a FluidStance® Original deck in Taxi Cab Yellow.
The Athlete
Fitness is a big part of your life, even when you're focused on work. Your desk feels incomplete without your FluidStance Level®, as well as a yoga ball for those times you'd like to work sitting down. Most importantly, your desk houses a desk riser and other accessories to help you maintain a healthy posture throughout the workday. Headphones help you stay in the zone, healthy snacks are on hand, and your commute-friendly bike is always at your side.
The Minimalist
You like to keep things straightforward and clean – the less clutter, the better. Keeping your desk minimal only feels natural. You don't need many accessories beyond a notebook to jot down your thoughts, and going digital with a variety of tools keeps the clutter away: Scannable to digitize various papers and receipts, Google Drive (your digital filing cabinet), and LastPass to safely keep track of how to access your digital life . You use both items in your Deck Care Kit to maintain tidiness and keep your workspace streamlined.
Whatever your desk style, now is the perfect time of year to freshen up your desk. You'll start the fall season renewed, reenergized, and with a clear and more focused mind.
How about you…what keeps you moving? Comment below or email us at [email protected].