Transforming Your Backyard into a Wellness Area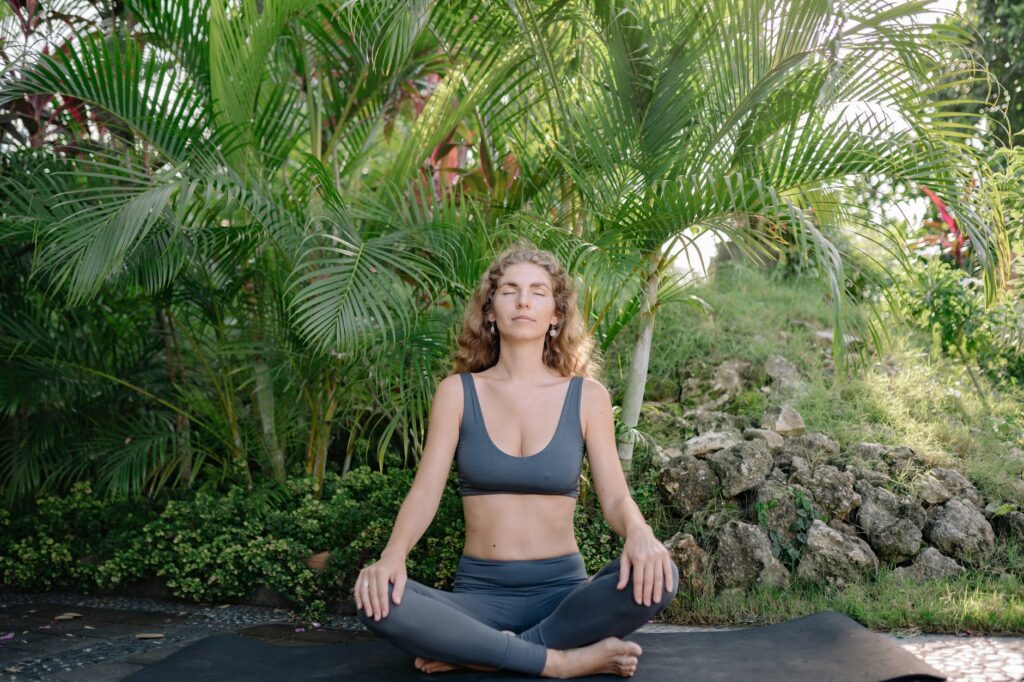 By Riley Jane for FluidStance®
After the stress of the past year, and particularly the pandemic, now is a great time to take a moment to assess where we are in our health and facilitate our own path to wellness. Something that can help? Transforming your backyard into a wellness area.
When stress builds up over a long period of time, as it has for all of us these past months, it can lead to burnout. "Burnout" has actually been classified as a mental health issue, as its primary damage is emotional. It can lead to feelings of hopelessness and helplessness. Results of a July 2020 survey show that 75% of employees have experienced burnout, with 40% feeling burned out because of the pandemic. The line between personal and work life has become blurred, with work crossing over into an employee's personal life, sometimes to the point of not leaving enough time for hobbies and relaxation.
Of course, there are many ways to prevent burnout, with some of the best being taking breaks and proactively managing your health. There will always be work to do, but it doesn't mean you should sacrifice your health. Besides taking small breaks throughout your workday, make sure you use those vacation days you've earned. 

There has been a greater focus on ergonomics in recent years, and with the shift to working from home, many people have replicated their office comforts or incorporated better office equipment, such as standing desks and balance boards. However, the full concept of "wellness" is not always part of these changes. You should also have a place where you can just relax and get away from work for a while. Consider transforming your backyard into a wellness area so you have a place to exercise and recover from work. Here are a few tips to get you started.
Plant more trees.
The color green provides breathing space for a tired mind. The longer you are exposed to greenery, the more strongly you are protected from stress-related problems. However, some trees are better suited to certain climates and soil types, so it's best to consult with an expert, such as a professional landscaper, before investing. She should be able to tell you what trees are best suited for your wellness area. Your landscaper can assist you in sourcing and planting healthy saplings or mature trees. She can coach you on how to care for your new greenery, and even set up regular maintenance appointments so your new wellness area stays healthy, just like you.
Place a water feature.
Whether it's a pond or a fountain, having a water feature can be extremely soothing. Its fluid texture contrasts with the hard lines of your garden and house, and the sound of water is calming. Maybe consider buying some fish to give more life to your feature? Having fish will make you set aside time to feed and take care of them, and watching them provides a sense of serenity. Paired with the previous tip, a water feature can attract wildlife, such as birds and dragonflies. This can provide some escapism for as long as you need it. Just make sure you choose something that blends into your backyard well and doesn't overpower everything else.
Invest in comfortable garden furniture.
The most comfortable outdoor furniture has cushions and padding, giving you a place to relax without any aches and pains. If outdoor furniture isn't in your budget, just bring out cushions, blankets, or mats and use them on the ground. Sitting in your backyard allows you to actually be outdoors comfortably during your breaks. Much better than just standing briefly in the middle of your garden. Compared to indoor furniture, buying outdoor furniture is a bit different: comfort remains a priority but other considerations include whether the material is able to withstand weather conditions. It's also important to check that you have enough space to store your furniture when winter comes.

Transforming your backyard will may require effort and investment, but it will be well worth it in the long run.