There's a Standing Desk for Every Student at Vallecito Elementary This Year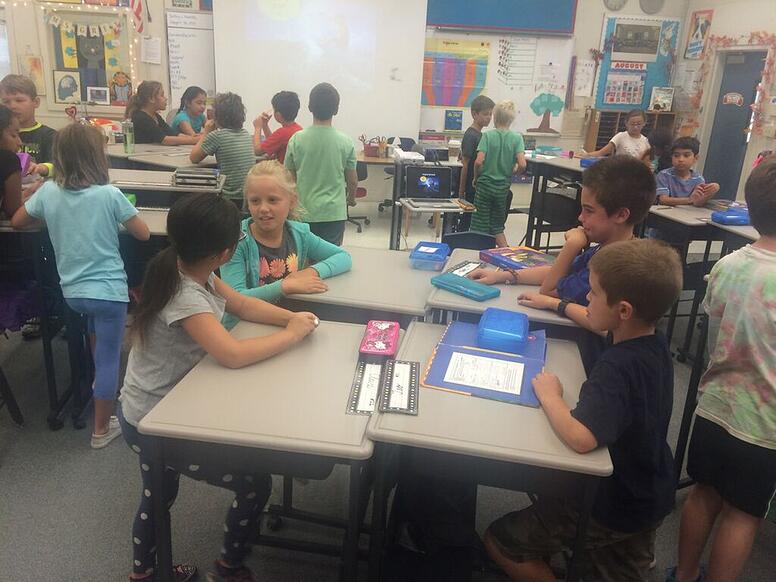 ---
Photo courtesy of Fast Company
For the first time, an elementary school has given every student a standing desk, according to Fast Company. The Bay Area's Vallecito Elementary School cleared out the chairs and desks from its classrooms in favor of adopting a student standing desk customized in height for each student this school year. This move followed a successful pilot program of a single standing classroom in the 2014-15 school year.
"A student at a standing desk gets the equivalent of an extra 45 minutes of learning each day because they're more engaged than they would be while slumped in a chair," according to writer Adele Peters. Peters cites studies that show that in addition to learning more, kids burn 15% to 35% more calories when they stand at school.
The standing desk program at Vallecito Elementary is driven by passionate parent volunteers. Parents Juliet and Kelly Starrett, also cofounders of San Francisco Crossfit, pushed for the school's adoption of standing classrooms for health reasons.
"We estimate that kids today are spending 85 to 90% of their waking hours sitting at school, doing homework, driving to and from school, and in front of screens—to the detriment of their bodies and minds," Juliet Starrett told Fast Company. "Our goal is to get every child in public school at a standing desk in 10 years."
Read more about Vallecito Elementary's challenges and goals in adopting standing classrooms at http://www.fastcoexist.com/3050599/welcome-to-the-worlds-first-elementary-school-with-standing-desks-for-every-student.