5 Tips for Setting Your Home Office Up for Success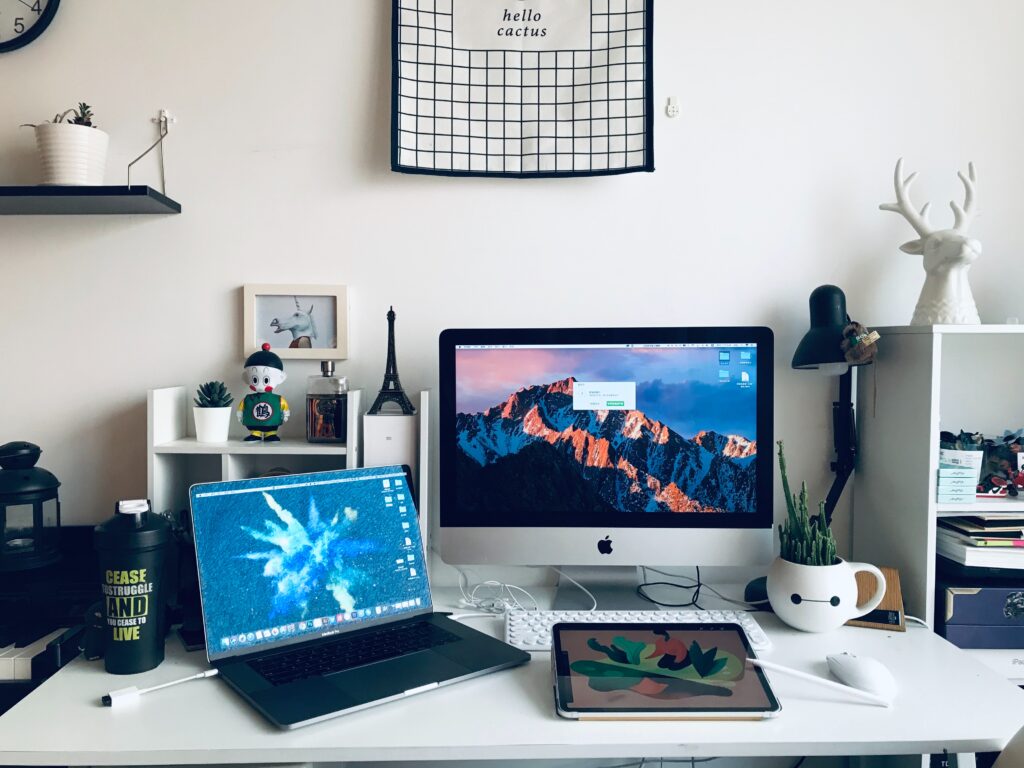 Most of us are suddenly finding ourselves working from home, and for way more time than we ever have. While the reasons for doing so are less than joyful, it is a great opportunity to approach this new space in your home with a fresh eye towards facilitating focus and productivity. And don't forget you want to make it a comfortable, healthy, and happy space too. Here are five tips for setting your home office up for success.
1. Carve out your space.
Whether you live in a large home or a small studio apartment, it's important to set aside a space that is dedicated only to work. This will help you keep a more regular schedule and create greater separation between your "work life" and your "home life." It could involve just purchasing some inexpensive shelving and neatly putting away or stacking your work supplies at the end of the day, or it could involve setting up a folding table in a corner of your living room. If you're going to be participating in a lot of video conferences, try to make sure that whatever is behind you is nice and neat (avoid the dirty dishes or hanging laundry background!). This is a great time to get creative, so have fun with it.
2. Consider an adjustable desk situation.
Sitting or standing incorrectly for eight hours a day can lead to aches and pains, which is not a good thing when setting your home office up for success. Try to create a workspace that maximizes efficiency and reduces muscle strain. A standing desk is a great way to ease lower back pain and focus on improved posture. If you don't have one yet, it's easier than ever to make one yourself! View our "Standing Desk Hacks" series for super simple ideas on how to DIY your own inexpensive standing desk in just minutes.
3. Remember to hydrate.
If you're in the process of changing your daily routine–how you work, where you work, when you work–make sure you don't forget about hydration. Research has shown that even a reduction in dehydration levels of as little as 2% of body weight can influence mood, lead to greater feelings of fatigue, and reduced levels of alertness. It's particularly important to have enough fluids on board to help keep you as healthy as possible, particularly if fighting off the flu or a cold. Track your water intake with apps like MyFitnessPal and entice yourself with a beautiful water bottle you'll want to keep near you, like our >ful® bottle.
4. Keep moving.
It's so easy to neglect your body's need for movement when your entire routine has just been upended and you find yourself confined, but giving your body the care it needs increases your focus, productivity, and happiness. If you're feeling a drop in energy right now (and an increase in anxiety!), committing yourself to the smallest of steps to practice exercise can keep you fit and provide benefits all year long. There are many online options and apps out there, from the 7-Minute Workout to YouTube videos and more. A FluidStance balance board is a great way to add movement to your day without even thinking about it; use it at your new standing desk setup, when on conference calls, or even when watching TV. And, check out our own office yoga series from Kelly Heath that are sure to keep your joints and body healthy even on the days when you're just not feeling it.
5. Add some green.
The power of plants cannot be underestimated when it comes to your daily mojo. Anything from a cactus, air plant, or something leafier is perfect. No plant? Try cut flowers or greenery from outside. Besides the good view, studies have shown that plants can help improve your mood and increase your productivity at work (you've heard us mention this before).
We hope these tips help. Hang in there!