Good Things Come In Trees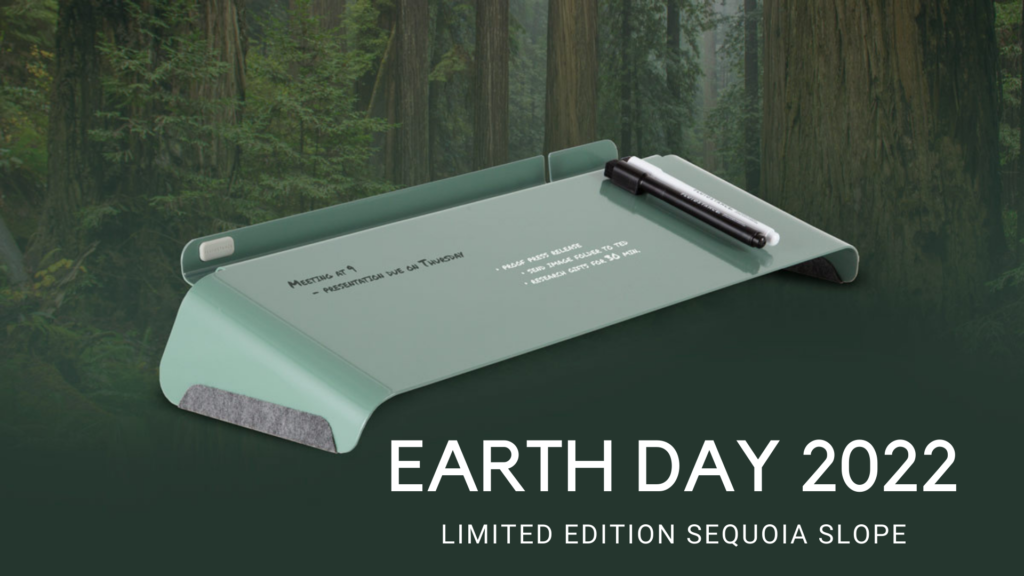 At FluidStance, our commitment to sustainability has only increased over the years, guiding the decisions we make as an eco-conscious business. This Earth Day, we are featuring a Limited Edition Sequoia Slope. Our purpose is to build long-lasting products while prioritizing sustainability-making sure we take the necessary steps to remain carbon neutral and become carbon positive.
Named after the beautiful Sequoia trees from our native California, this limited edition boasts a sleek light green, premium whiteboard surface perfect for jotting down ideas without the use of paper notes. Just like our other On Desk items, the Sequoia Slope aims to combat the negative impacts of paper waste and clutter. The space in which you choose to work each day impacts your focus, productivity, and mental and physical health. It's important to take the time to organize your thoughts and workspace to create an environment that supports your productivity goals throughout the day. 
Not only will you create an environment that supports you and your workspace, but you'll also support the Earth's environment. For every Slope sold, we'll be rolling up our sleeves to show our commitment to sustainable practices by planting an extra ten trees through American Forests. Our journey to becoming carbon positive can be achieved through these efforts this year! 
Why are trees so important to us at FluidStance? It's really quite simple. Trees are considered to be the lungs of the Earth and can absorb as much as 1 ton of carbon dioxide in their lifetime. They contribute to the environment by providing oxygen, improving air quality, conserving water, supporting wildlife, and so much more. An estimated 18 million acres of forest are lost each year to paper production which is the equivalent of 20 football fields every minute! The Earth's surface is covered by 31% of forest and that's all Earth has left. We need to protect what's left of our beautiful forests from the negative impacts of deforestation-which is why we made a pledge to focus on reforestation.
Make a difference with us this Earth Day. Our world is depending on it!