10 Companies That Show Us Movement is Good for Business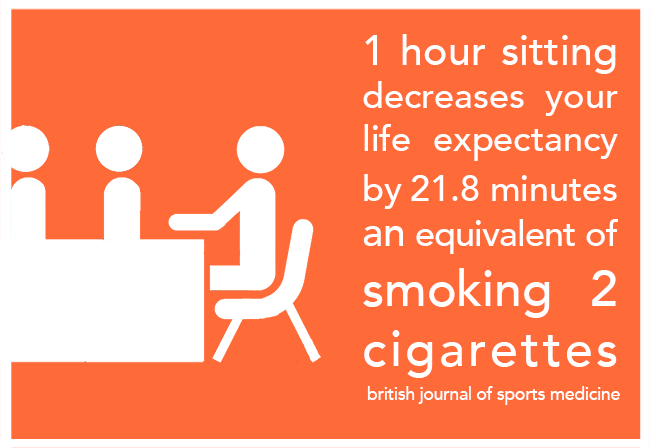 ---
It's no secret that sitting at work all day is really bad for us.  Not only does it contribute to some pretty scary health impacts, but it also crushes our productivity and stifles our creativity. The good news is that as we're starting to learn more about the perils of sitting, and forward thinking executives are starting to make some big changes that show their employees that movement is good throughout the day. Walking meetings are en vogue in Silicon Valley, adjustable desks are growing in popularity and wellness perks are attracting talent who values their health as much as their careers. Take a look at these 10 companies who are leading the way in conquering our sitting disease. 
This Ventura, CA based company is doing a lot of things right. One of those things includes giving employees tons of opportunities to follow their passion for the outdoors with their "let my people go surfing" policy. Company founder, Yvon Chouinard, is famous for saying he's never come up with a good idea sitting at a desk, and he's living up to the sentiment with his company values. Movement-minded perks include on-site fitness classes, volleyball courts, company bikes, surfboard storage, and a weekly farmer's market. All these efforts help keep Patagonia employees moving and active throughout the day, contributing to employee productivity and work satisfaction. Proof? Patagonia has tripled their profits since 2008.
Who likes meetings? No one. Why? Among the many reasons, it's because it zaps our productivity and forces us to sit in stuffy conference rooms for countless hours. Not at Facebook. Mark Zuckerberg is famous for not only reinventing the way the world communicates, but also for establishing walking meetings as the new normal on the 57 acre Silicon Valley campus.  Other movement-minded perks at Facebook include free bikes, standup desks galore and endless healthy food options, just to name a few. 
Asana, a productivity software company in San Francisco, offers employees some of the best workplace ergonomic perks – $10,000 to build the standing desk workstation of their dreams. Asana also serves up super healthy menus, designed to keep employees active and alert throughout the day. The cherry on top? CrunchBase shows Asana's funding trajectory and rapid growth in innovations – some strong indicators of business success.
This famous energy bar maker built employee wellness into their core values from the start. At Clif Bar, employees are incentivized to bike or walk to work, the cafeterias serve up organic meals, and there's a rock climbing wall, yoga classes, spinning and two hours of personal training a week.  Founder Gary Erickson is also an eco-conscious executive, reimbursing employees for purchasing company approved hybrids and making energy efficient upgrades to their homes. 
Backroads, an active-centric travel company with 202 employees based in Berkley, CA dreams up the best biking, hiking and multi-sport trips on the planet.  They're also dedicated to keeping their employees moving by providing treadmill desks and encouraging lunchtime bike rides, yoga sessions and fitness classes.  Is this good for business? Their employees think so.  Backroads made the elite 2014 Outside Magazine Best Places to Work list.
GroundFloor is a Denver based media company whose roster includes a number of health and wellness related companies.  GroundFloor believes fitness is essential to their employees morale. As of 2011, the company gave employees monthly stipends to encourage active lifestyles both inside and outside of the office. Perks include treadmill desks, fitness ball chairs, on-site gyms, walking meetings,  "bruise and booze" monthly workout sessions and an annual Outward Bound event.  
This San Francisco fitness tracking company gives employee five weeks of vacation in the spirit of pursuing epic fitness and outdoor adventures. Many Strava employees are hardcore athletes, who particularly appreciate the $1,000 annual gear and $500 gym membership stipends. Other movement-minded perks include on-site yoga, a bike shop, and showers to encourage employees to exercise throughout the day. Strava also recently raised $18.5 million in Series D funding to fuel its growth and records over 3 million activities in its app each week.
It's no surprise that this Durango, CO based manufacturing company has won the Durango Clean Commute Challenge for the past four years. Nestled on the Animas River, the company encourages employees to hit the Durango River Trail for workday runs, and also offers a 24/7 fitness center that employee's families can also take advantage of.
This Burlington, VT online auto company has been awarded the Governor's Council on Physical Fitness and Sports for five consecutive years, thanks to its commitment to employee health and wellness. The company firmly believes that fit employees are healthier, happier and more committed to their work. Dealer.com wellness perks include 50 fitness classes a week, a CrossFit box, basketball and tennis courts, and locally sourced food. 
This high-tech firm from Westminster, CO believes there's a direct link between employee happiness and customer happiness. To nurture this link, the company encourages walking meetings, on-site CrossFit, bike commutes, weekly farm-to-table BBQs, yoga classes, kickboxing, Zumba and annual field days. Good for business?  AdWeek reports Datalogix has grown revenue 50% in the past year and recently secured $45 million in funding.
Is your company combating the sitting disease?
Tell us what your company is doing to keep employees sitting less and more active throughout the workday. We're on a mission to evolve the common workplace, and hope to add your company to our list of awesome companies leading the movement.