10 Awesome Adjustable Desks to Get You Off Your Butt at Work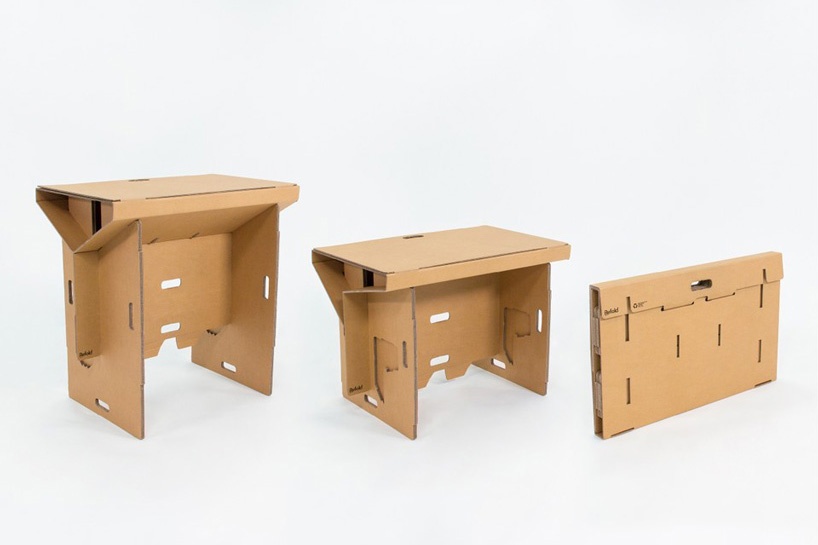 One of the reasons we're huge fans of adjustable desks that allow you to move when you need it, but also allow you to rest. Having the right standing desk makes all the difference. We've reviewed the best standing desks on the market, including some DIY standup desk options, in no particular order:
About: Ernest Hemingway famously worked standing. He believed it kept his senses sharp and let him better connect to the world. Washington, D.C.-based company Stand Crafted has taken this inspiration to create handmade wall-mounted adjustable desks that hold your laptop so you can stand and work. The Hemingway is just one of the minimalistic standing desk designs they offer. Available at: https://www.etsy.com/listing/476236952/the-hemingway-wall-mounted-standing-desk
Pros: This handcrafted desk will serve as a unique conversation piece wherever you're working. Its non-existent footprint makes it great for smaller workspaces, and the eco-friendly materials mean it's a product you won't feel guilty about investing in.
Cons: This option is best for those who work from a home office, unless your workplace is open to mending holes in the drywall down the line. The limited desktop space also means it's more suitable for desk jockeys that use a single monitor or laptop.
About: Refold first caught our eye when it launched a crowdfunding campaign on Kickstarter. It's a unique approach to a standing desk and one that we love for its ingenious design, portability, and smart approach to modern work-life and office design. Available at: http://www.refold.co/
Pros: Moving around the office? How about working from home one day and the office the next? This smart cardboard (yet super sturdy) design allows users to pick up their desk and go whenever they want. It's easy to assemble, adjustable, made from 100% recycled materials, and is entirely customizable. Oh, and did we mention it's super affordable? Double cha-ching.
Cons: While we're fans of the cardboard look, some super stuffy offices might give you a second look if it doesn't fit into your office's aesthetic.
About:  The VARIDESK Pro isn't a desk at all but an ingenious platform that takes your monitor (or monitors, as it's designed for dual monitor usage) and keyboard from sitting height to standing height in a few seconds. To adjust the platform's height, you squeeze the handles on the sides of the platform, and the spring-loaded assist mechanism takes it up and down. It also comes with a free app you can install to track calories burned while standing and to set alerts reminding you to move positions. Available at: http://www.varidesk.com/shop/by/series/pro-series
Pros: Its app is a definite pro, but you can also install something like Time Out and achieve the same thing. The price is on the lower end of options out there, and that's a pro in our pocketbooks. It comes ready to use out of the box – in less than 5 minutes, you can have your work station standing-ready.
Cons: It's big and clunky looking, so as far as aesthetics, there are sleeker options (but also more $$). If your monitors aren't adjustable, the sitting height may be a little high for your sitting set-up. Some reviewers also mention it takes up lots of desk space because of its odd shape. Maybe not ideal for small desks or desks with lots of stuff on top.
4. UPLIFT Height Adjustable Standing Desk, $499
About: The UPLIFT is on the more affordable end of power-adjustable stand/sit desks. It holds 335 lbs, comes in multiple colors and finishes, and is offered in multiple sizes. Available at: http://www.upliftdesk.com/adjustable-height-desks/
Pros: The UPLIFT comes with a 5-year warranty on the whole desk, one of the best warranty packages we've found for standing desks. The materials are premium, so both the function and the aesthetics are top-notch. The set-up is also quick and painless.
Con: Not many deal-breakers here. If you use a computer with a CPU, the CPU mount is often too small for older computers, some reviewers note. It is heavy, so assembly will require two adults. Finally, the largest desk option has been noted by some as being a bit unstable in the stand position, so the third optional leg may be a good idea.
About: The NextDesk Air is on the pricier end of adjustable standing desk options, but with good reason. It features a push-button system to adjust the desk, the ability to program 3 heights, a 315-lb weight capacity, an auto-protect system to avoid overloading by cutting itself off, a 3-year warranty, and lots of add-ons to fit your unique office needs. If the price is too much all at once, they also offer monthly payments with PayPal Bill Me Later. Available at: http://www.nextdesks.com/store/air
Pros: This is the elite of the elite standing desks. The materials are gorgeous and include bamboo, aircraft aluminum, and glass styling. If your office has a clean, minimalist aesthetic, the NextDesk Air will fit right in. This desk also offers lots of desktop space and isn't crowded by lift mechanisms. Assembly is fast but will require two people.
Cons: The price tag. There are less expensive alternatives offering lots of the same value, but they aren't as beautiful. Also some reviewers aren't happy with the up-to 30 days it took them to receive their desk and, for some materials/finishes, the backorder times due to high demand.
6. DIY Standup Desks, $0 – $1,000,000
About: If you're new to the standing desk movement, a great option is rigging your own set-up. This is particularly easy if you're working on a laptop because you can simply stack some books under your computer until you've got it at the perfect height. Beyond stacking books, there are a ton of awesome DIY standing desk recommendations. Some of our picks:
Pros: Creating your own workspace is awesome because it allows you to test the waters and practice spending part of your day standing as you adopt your new habit. We're also big fans of creating our own standup desks because we'd rather save our money for something like a FluidStance® deck.
Cons: DIY desks can look a little scrappy and, depending on how elaborate you get, you may still end up shelling out a few bucks on your materials. If you build something that requires substantial building, be sure you either have a little experience with tools or can grab a handy friend to help you.
About: This adjustable desk was a loyal friend to us during our own stand/sit testing. The Kangaroo is just one of many ErgoDesktop adjustable desk options and we loved it for its easy adjustability. Available at: https://www.ergodesktop.com/kangaroo
Pros: This adjustable desk earns extra points for allowing users to separately adjust the workspace and monitor, allowing for personalized ergonomic support.
Cons: If you have a full sized keyboard, oversized monitors, and you tend to take up a lot of workspace, you may want to opt for the keyboard extension, which adds an additional $79 to the price tag. Another note is that the Kangaroo is not built for monitor and laptop viewing at the same time, but they do have other models that can accommodate this need.
8. Focal Upright Locus Seat, $715
About: Focal Upright's Locus Seat isn't exactly an adjustable desk, but we love it anyway. Focal Upright offers a selection of leaning stools that allow users to lean back as they stand at their desks, offering some rest without completely sitting. They make some really sharp stand up desks as well. Available at: https://store.focalupright.com/Locus-Seat-p/flt-1000.htm
Pros: The Locus seat is awesome to use with your adjustable desk and allows you to rest when you need it while staying in an upright position. This new approach to a chair allows users to maintain healthy working postures instead of slumping over in a standard office chair.
Cons: You'll need to already have a standup desk, or be willing to make the additional investment to put this seat into action.
About: Ikea, long known for its sleek designs and DIY construction process, recently developed the Bekant sit/stand desk. The desk is adjustable with a simple touch of a button and supports 150 lbs of weight on its surface. Available at: http://www.ikea.com/us/en/catalog/products/S19022530/
Pros: We like that Ikea is helping to bring adjustable desks to more people across the world. We also really like that the desk comes with a 10-year warranty and can rise as tall as four feet with just a press of the button. This is also on the more affordable end of standing desk options out there.
Cons: With the Bekant, you get what you pay for. Initial reviews cite limited customizability, less than reliable functionality, and a low-quality aesthetic.
10. Uline Shipping Desk, starts at $201
About: FluidStance Founder and CEO Joel Heath was clever enough to turn this industrial packing table into an adjustable standing desk with variable heights. Available at: http://www.uline.com/BL_3853/Industrial-Packing-Tables
Pros: We really love the price tag! Also, the fact that you can buy separate pieces that allow you to hack together just the right solution for your office is a big plus. Add the wheel option to make the desk even taller for the folks that need it (and for those of us using a FluidStance deck). Finally, the options of finishes allow you to more easily work this into your office decor.
Cons: You'll need to manually adjust the legs yourself between sitting and standing positions. It's also industrial looking, so it may not work for some offices.
When it comes right down to it, we believe in balance. If you're thinking about moving to a standing desk setup, keep in mind that the most optimal scenario is rotating during the day between sitting, standing, and flowing on your FluidStance deck. The most flexible solution for doing this is an adjustable standing desk vs. a fixed height desk. Leave us a comment to let us know what you think – we'd love to hear from you!