What Moves You: Using the FluidStance Level in Your 80s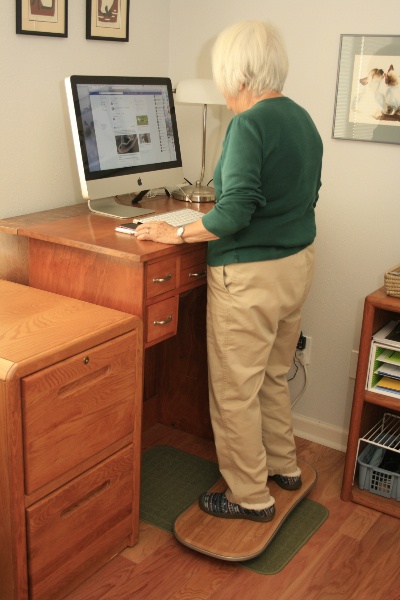 ---
Guest post by Joan Dawson
I love being the oldest person in the world happily using the FluidStance Level! We moved recently into a great retirement community, and when we were down-sizing I gave my husband my great desk and took over my antique jeweler's bench as a standup desk (OK, I'm short). My husband fixed an extension to make my desk deeper, so I have more space for my computer, phone, and everything else I need.
I spend a lot of time updating a book I published and doing our accounting, and I always stand on the Level for the day's phone calls. I've used it so much that I forget I'm standing on it. When we had guests for wine and cheese, our friend tried out the Level before dinner. I told him to hold on while starting up, and I could see his legs trembling in his good trousers. I told him he needed his own Level!
By the way, I'm 80 years old, totally white-haired but young at heart and feet! I first met Joel when he was three months old!
Want to hear more stories like Joan's? Visit our Testimonials page at http://www.fluidstance.com/testimonials. Email us at [email protected] or tweet at @FluidStance to tell us about your own experience on the Level!