Your New Adjustable Height Desk: What to Consider Before Buying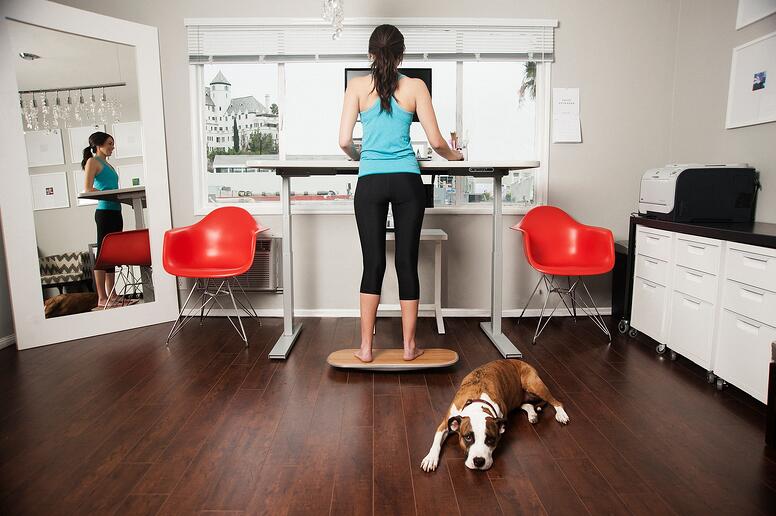 ---
We've all heard that movement is key to a healthy, happy workday—and we all know how hard it can be to get moving when you're stuck working at a desk all day. One great way to step up your wellness game at work is by investing in an adjustable height desk. Adjustable desks give you the freedom to find your own balance between sitting and standing, keeping you alert and flowing from 9 to 5. Choosing an adjustable height desk can seem daunting (who knew there were so many of them out there?), so we've come up with a handy guide to help you get what you need out of your new workstation.
1) Comfort at both sitting and standing levelsThe Stir Kinetic Desk M1 adapts to your preferences the more you use it.
Moderation is key: you certainly don't want to spend all day sitting, but it can get tiring to stand all day, too. Make sure that your standing desk adjusts comfortably to sitting height, so that you can transition between the two without adding stress and discomfort to your day. Check out the Stir Kinetic Desk M1 and the Jarvis Standing Desk, both of which offer seamless, push-of-a-button transitions. Read up here on our founder Joel's thoughts about the importance of striking a balance between sitting, standing, and (of course) flowing.
2) Multiple tiers to rest your computer and keyboard on
The Readydesk adjusts to let you work standing at any desk.
Your computer monitor should be at eye level, while your keyboard and mouse should be comfortably accessible around elbow height (so your arms can rest parallel to the desk while you work). Achieving this ergonomically ideal position can mean adding a monitor arm or a separate raiser to your sitting or standing desk (like this one from VARIDESK ). If you're not looking to modify an existing desk, look for one with tiers already built in—and you can't do better than Focal Upright's Sphere Bundle, which also includes the ergonomically designed Locus Seat for when you want to take a break from standing.
3) Aesthetic
Artifox's solid hardwood standing desks add beauty to any workspace.
You're going to be spending a lot of time working at your desk—why not find one you love to look at, too? Artifox offers standing desks with a minimalistic design in maple and walnut (perfect to match your American-Made Level!). If you want to really push the limits of your creativity, go for the UpDesk's UpWrite Adjustable Height Standing Desk. The desk's surface doubles as a white board where you can jot notes down, doodle, and let your creativity flow.
4) Affordability
Refold's (surprisingly sturdy!) adjustable height desk is made entirely from cardboard.
Ikea, ever the friend of your wallet, has come out with a new relatively affordable $489 Bekant sit/stand desk. Refold also offers an affordable option, starting at $250. The coolest part? The whole set-up is made of cardboard. For those of you who still aren't eager to run out to the store to find your new adjustable desk, there's always the DIY option! Check out Colin Nederkoorn's blog for a $22 DIY Ikea standing desk, or get creative with your own set-up.
Still looking for more ideas? Check out our post on 10 Awesome Adjustable Desks to Get You Off Your Butt at Work, and be sure to let us know if there are any great ones you've come across. Happy searching!